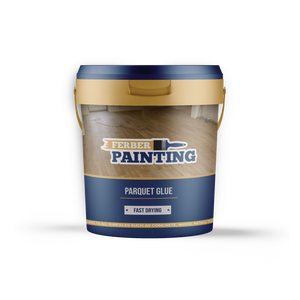 Our parquet glue, which is a polymer glue with very high mechanical and acoustic performance, intended for all types of parquet up to 200 mm wide and 23 mm thick, is the best on the market today. It is easy to apply, with a very fast setting, and remains the only one able to offer you more than satisfactory results, which makes it the only high quality parquet glue.
   Yield: 1 m² per liter.
   Application temperature: +10°C to +30°C.
   Density: 1.60 + 0.1.
   Open time: 40 minutes.
   Blocking time: 2 hours.
   Final setting: 24 hours.
   Open to walking: 24 hours.
   Finishes (sanding, varnishing): 48 hours.
PROPERTIES:
   Solvent-free, isocyanate-free and phthalate-free product.
   Suitable for heated floors, electric radiant floors and reversible floors.
   Suitable for solid parquet (up to 200 mm wide and 23 mm thick).
   Product ready to use, very fast setting.
   Very high mechanical and acoustic performance.
   Very economical, can be kept for a long time.
   Very high resistance to humidity.
DESTINATION:
•   All types of parquet and all types of wood (local wood, exotic wood).
•   Adherence to all supports such as concrete, wood, metals, tiles, anhydrite screeds.
•   Suitable for damp rooms.
•   Associated substrates: surfaced concrete with neat facing, cement-based screed, anhydrite screed, old tiles, old suitably smoothed parquet floors, plywood panels.
•   Associated coatings: all types of parquet on absorbent or blocked substrates, all species, engineered parquet, solid parquet, mosaic parquet, densified parquet.
RECOMMENDATIONS:
•   Store the parquet in the premises a few days before laying, respecting the storage conditions. Store the glue in a temperate room.
•   The substrates must be clean, dry, healthy, solid, resistant and free from greasy products. The flatness of the supports must be 5 mm under the 2 m rule and 1 mm under the 20 mm rule.
•   Remember to check the humidity with a carbide bomb. It must be less than 3% at 4 cm depth for cement substrates and 0.5% for calcium sulphate screeds.
APPLICATION:
•   Apply the glue with a spatula on the support, in simple gluing, at a rate of 1 kg to 1.4 kg per m² approximately, according to the roughness of the supports.
•   Respect the peripheral clearances (8 mm minimum). The clearance calculation rule is equal to 0.15% of each of the largest dimensions to be covered by the floor.
•   Apply the slides directly into the fresh glue and regularly check the transfer on the back of the slides. Deformed planks should be flattened to the ground by loading them until the glue has fully set.
•   Beat the floors to crush the grooves of glue and transfer the glue to the back of the floor.