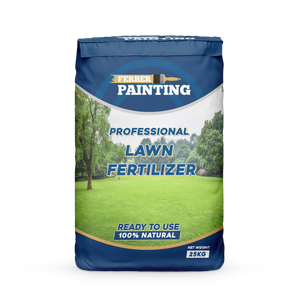 Very powerful fertilizer for harmonious growth of your lawn.


   The best fertilizer for better resistance to drought and trampling.


   Boost action for existing grass.


   The best fertilizer for creating new lawns.


   Fertilizer rich in microorganisms and fungi for decompaction and good aeration of the soil structure.


   Increases foliage density to smother weeds and moss.


   100% natural product, without sludge or urban waste.


   Able to be used in organic farming.


   Very economical, 4 kg per 100 m2 only once a year.


   Packaged in a 25 kg bag for better use.

Instructions:
For a new lawn:
•   Spread the fertilizer evenly at the time of tillage to incorporate it into the soil.
•   Sow the lawn and water evenly.
•   Keep the soil moist until the grass germinates.
For an existing lawn:
•   Spread fertilizer evenly without incorporating.
•   Apply every 6 months.